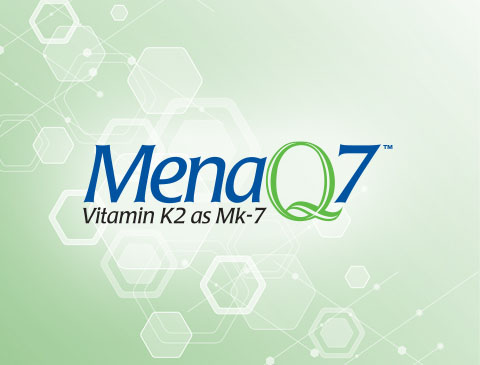 MenaQ7® PURE is a nature-identical synthetic form of vitamin K2 as menaquinone-7 (MK-7) that matches the current draft compositional guideline for vitamin K2 in Australia.
The latest Vitamin K2 technology offered by Norwegian-based NattoPharma ASA, exclusive supplier of MenaQ7® natural and crystals. MenaQ7® PURE is an all-trans, synthetic MK-7 that is completely free of cis-isomers.
MenaQ7® natural vitamin K2 is backed by a breakthrough study demonstrating improvements in bone and cardiovascular status, and patents on cardiovascular health[BM1] .
Vitamin K is an essential bioactive compound required for optimal body function. Vitamin K2 is a versatile vitamin and has numerous functions in the body, including:
Vitamin K2 is thought to be the active form of vitamin K in the bone tissue and to play a role in the maintenance of bone quality (reference). A deficiency of vitamin K2 has been linked with vascular calcification and osteoporosis (reference).
Of all the menaquinones, MenaQ7 has been found to be absorbed most efficiently and exhibits greatest bioavailability, and has a longer half-life than Vitamin K1 (reference).
A 3-year placebo-controlled trial in healthy postmenopausal women found that vitamin K2 (MenaQ7; 180 micrograms per day) significantly improved vitamin K status and decreased the age-related decline in bone mineral content and bone mineral density at the lumbar spine and femoral neck. Bone strength was favourably affected by vitamin K2. Vitamin K2 significantly decreased the loss in vertebral height of the lower thoracic region at the mid-site of the vertebrae.
Available in preparations of:
1000 ppm
2000 ppm
1500 ppm in oil preparations
MenaQ7 can be used in tablets, capsules, and in nutritional powders (e.g. multivitamin mineral powders).
For more information, contact Craig Fallshaw at craig@cmgrouponline.com.au
Are you a consumer looking to buy MenaQ7?
Visit these websites to buy product:
www.nutritiondiagnostics.com.au
www.bioceuticals.com.au/product/preview/K2-Capsules
or send us an email and we can tell you the nearest stockist to you craig@cmgrouponline.com.au