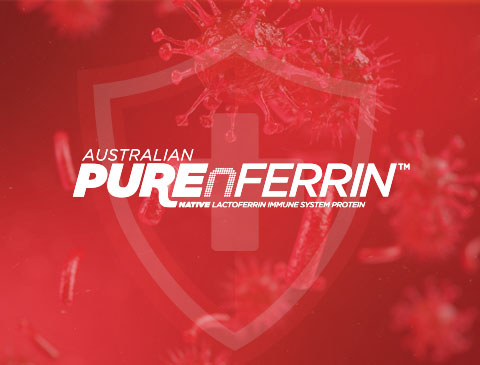 PUREnFERRIN™ is a unique ultra-premium lactoferrin that is gently spray dried and rapidly absorbed high purity lactoferrin protein. PUREnFERRIN™ is prepared directly from fresh cow's milk that has passed through our innovative manufacturing process designed to minimise protein denaturation, and so optimise the preservation of lactoferrin's functional properties.
Lactoferrin is a natural adjunct to nutritional immune system support. Lactoferrin is considered a first-line defence protein involved in immune response (reference) and the protection against a variety of microbial infections (reference, reference). It has antibacterial, antiviral, and antimicrobial properties (reference) and has benefits in the gut (reference). Lactoferrin can function as an antioxidant, reduce intracellular levels of reactive oxygen species, reduce oxidative stress, and reduce excess inflammatory responses (reference, reference, reference). It plays a role in the prevention of systemic inflammation (reference). Lactoferrin plays a key role in maintaining cellular iron levels in the body (reference) via the homeostasis and transportation of iron (reference, reference, reference).
PUREnFERRIN™ Features and Benefits
Proudly Australian made using pure Australian cow's milk
Optimised lactoferrin protein preservation
Gently spray dried at low temperatures
Smaller, more uniform lactoferrin particles permit improved blending and solubility outcomes
 
Lactoferrin can be used in tablets, capsules, and powders.
For more information, contact Craig Fallshaw at craig@cmgrouponline.com.au