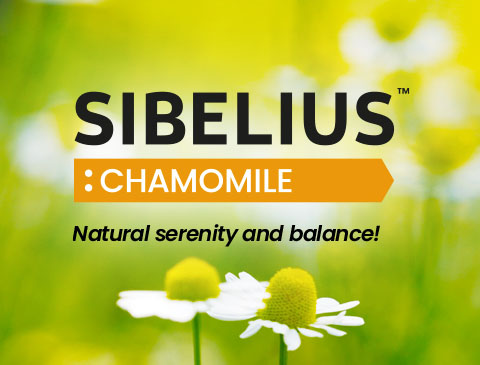 SibeliusTM: Chamomile is the only non-GMO, proprietary sourced, and scientifically validated Roman chamomile on the market.
Roman Chamomile (Chamaemelum nobile) is widely used throughout the world. It has numerous properties, such as carminative, sedative, spasmolytic (reduces spasms), anti-inflammatory (reference), antioxidant (reference and reference), and healing properties.
Roman chamomile contains various compounds (e.g. flavonoids, apigenin, apigenin-7-O-glucoside, caffeic acid, chlorogenic acid, luteolin, and luteolin-7-O-glucoside).
In vitro studies have reported anti-inflammatory, hypoglycaemic, antiedemic (reducing oedema), and antioxidant activities of Roman chamomile. SibeliusTM screened diverse chamomile extracts to identify their possible beneficial effects on the regulation of cellular aging. SibeliusTM: Chamomile tincture showed significant increases in the lifespan of the model organism C. elegans by almost 15%.
Sibelius Chamomile can be used in tablets, capsules, and powders.
For more information, contact Craig Fallshaw at craig@cmgrouponline.com.au