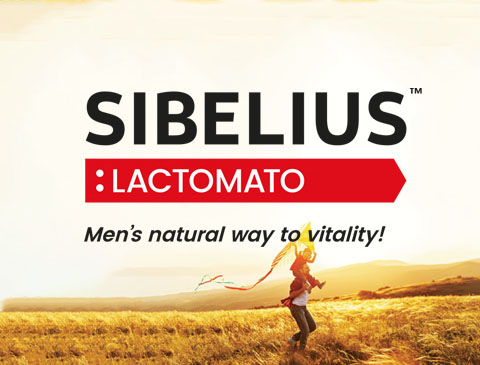 SibeliusTM: LactoMato is a branded, scientifically evidenced and clinically proven natural Lycopene Complex, specially developed to support cardiovascular and prostate health, and promote healthy sperm function.
Tomato and its derived bioactive products have prominent antioxidant and anti-inflammatory actions.
Lycopene is a carotenoid. Some of the functions of lycopene include antioxidant, anti-inflammatory, antihypertensive, antiplatelet, and protective endothelial effects (reference). Additionally, it may also improve vascular function, metabolic profile, and reduce arterial stiffness (reference). Lycopene can improve sperm parameters, including sperm motility and morphology. Lycopene has favourable effects for subclinical atherosclerosis, metabolic syndrome, hypertension, peripheral vascular disease (reference), and prostate health.
The bioavailability of SibeliusTM: LactoMato, tomato paste (positive control), or a placebo was investigated in 33 people. After 8 weeks of supplementation, lycopene from SibeliusTM: LactoMato was as bioavailable as tomato paste, inducing a similar increase in plasma lycopene concentration. This increase was greater in both lycopene groups than in the placebo group.
Sibelius Lactomato can be used in tablets, capsules, and powders.
For more information, contact Craig Fallshaw at craig@cmgrouponline.com.au